Unique Features
How it works
1

Analysis

Each day we analyse all the available games and pick the tips that we are confident will increase your profitability.

2

Notification

When new tips are added to the app you will receive a notification.

3

Unlock

You decide what you do with our suggested tips

4

Review Performance

Each day at we add the previous day's tips to the performance dashboard and recalculate the profitability to reflect the latest win or loss.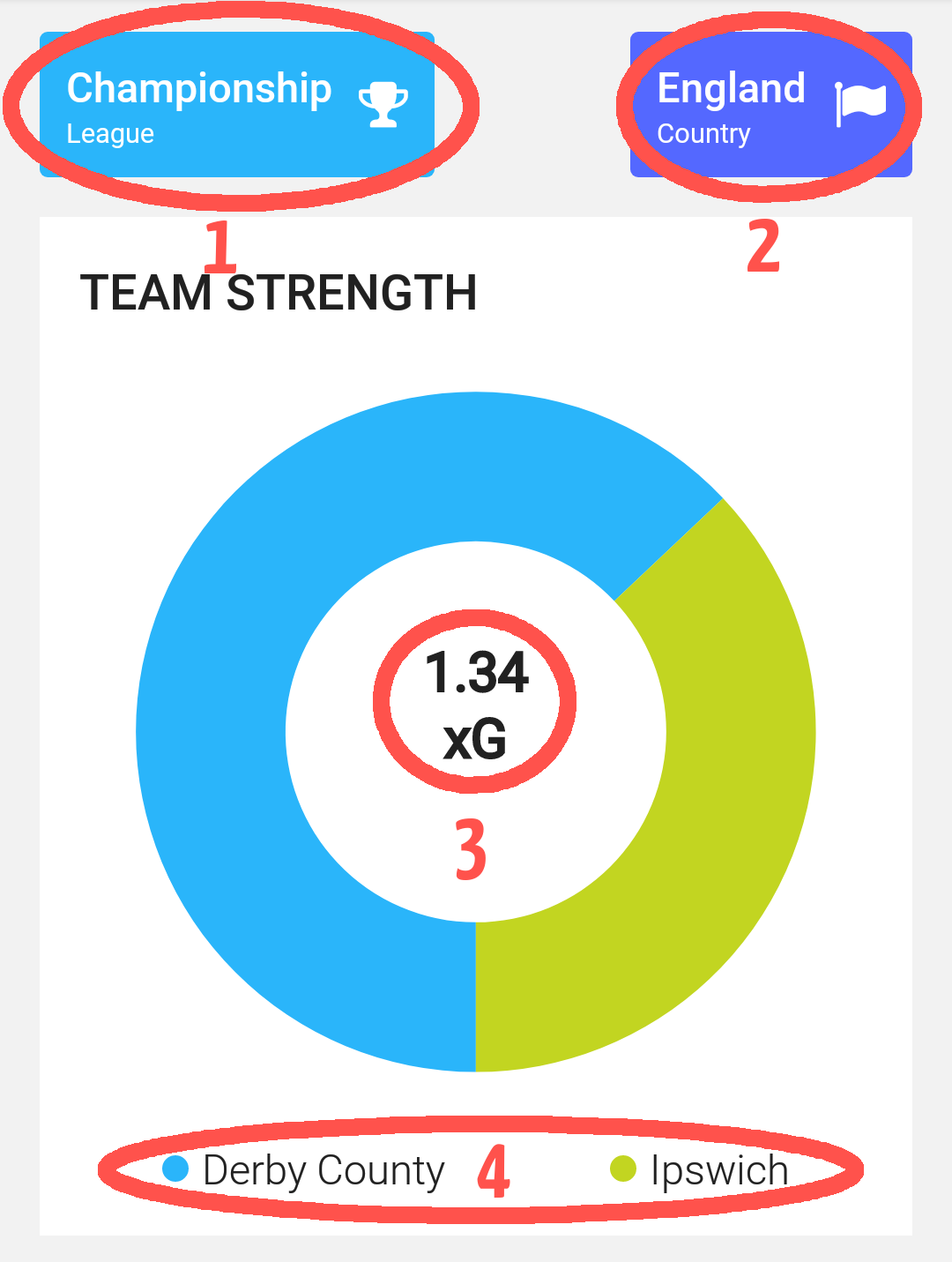 1

League Name

Name of the national league where the game is playing.
There could be multiple leagues per country.

2

County

Name of the country associated with the league.
Only national leagues supported.

3

Expected Goals

Team strength according to the number of goals scored in the past against teams similar to the one faced in the current match.
The defence of the adversary also influences this score.
Touch the colour corresponding to a team to display that team's expected goal index.
There are other factors beside team strength that can influence the outcome of a match.

4

Legend

Team name and corresponding colour.
1

Our approach

A quick test

Check the two tables bellow
Consider each row a bet placed with a fixed stake of 1 unit
Which one is better?

| Ticket Number | Odds | Won | Bet Amount | Wins |
| --- | --- | --- | --- | --- |
| 1 | 1.1 | YES | $1 | $1.1 |
| 2 | 1.4 | YES | $1 | $1.4 |
| 3 | 1.5 | YES | $1 | $1.5 |
| 4 | 1.1 | YES | $1 | $1.1 |
| 5 | 1.6 | NO | $1 | $0 |
| 6 | 1.1 | YES | $1 | $1.1 |
| 7 | 1.2 | YES | $1 | $1.2 |
| 8 | 1.45 | NO | $1 | $0 |
| 9 | 1.15 | YES | $1 | $1.15 |
| 10 | 1.1 | YES | $1 | $1.1 |
| TOTALS | | 8 out of 10 | $10 | $9.65 |

| Ticket Number | Odds | Won | Bet Amount | Wins |
| --- | --- | --- | --- | --- |
| 1 | 3.5 | NO | $1 | $0 |
| 2 | 2.7 | YES | $1 | $2.7 |
| 3 | 3.5 | YES | 1$ | $3.5 |
| 4 | 3.2 | NO | $1 | $0 |
| 5 | 3.4 | NO | $1 | $0 |
| 6 | 2.6 | NO | $1 | $0 |
| 7 | 3.4 | NO | $1 | $0 |
| 8 | 3.8 | NO | $1 | $0 |
| 9 | 4.2 | YES | $1 | $4.2 |
| 10 | 2.75 | NO | $1 | $0 |
| TOTALS | | 3 out of 10 | $10 | $10.4 |

Ticket 1

First table shows better performance in terms of accuracy (8 out of 10 are correct)
Even at this high accuracy 80%, we are actually losing money.
Placing bets according to the first table would inflict a total net loss of $0.35.
Even though we got so many tickets right, we end up with less money than before starting to bet.

Ticket 2

3 out of 10 tickets are correct (bad accuracy)
Placing bets according to the second table would result in a net profit of $0.4.
Cashout Football Predictions takes a similar approach where our accuracy is not as important as overall profitability
Each of our tips is tracked in the performance dashboard by net profitability.
We consider profitability more important than accuracy.

2

Simulator

Use our

stake simulator

to fine-tune the amount of risk you want to take.

Depending on your preference you can opt for riskier or safer methods.

Recommendation:

Calculate a fixed bet stake representing 3-5 % of your initial bank. (e.g. 100 if the bank is 2000)
The simulation page allows you to look back in time and select a start date by clicking and selecting a time interval.
Make sure that during the selected interval your bankroll does not hit 0.
The purpose is to learn from past performance and tune your fixed stake so that you don't go bankrupt in the short-term.
The highest risk in our model of betting is selecting a stake that is too big which leads to losing your whole bankroll before betting on sufficient tips to start seeing profits.
Use this fixed stake for all your future bets

3

General recommendations